This past weekend I went along with Wendy Symmes of Wild Fire Bengals to the First in Flight Cat Show this past weekend in Raleigh, NC.
I had lots of fun! I tried to be helpful to Wendy and I learned lots about how shows work and what goes on behind the scenes. This was my very first Cat Show experience and I think it was cool to get to go with a breeder.
Here are some pictures...I took tons and I think it will take a day or so to sort them out. Wendy showed a Lynx Point girl named G.G. (Glitter Girl). And she brought three nearly 4 month old kittens because she was trying to orient one of them "Moose" to the Show environment. So we had 4 cats at the show.
Here is the star of the show, G.G. She really is as sweet as she looks.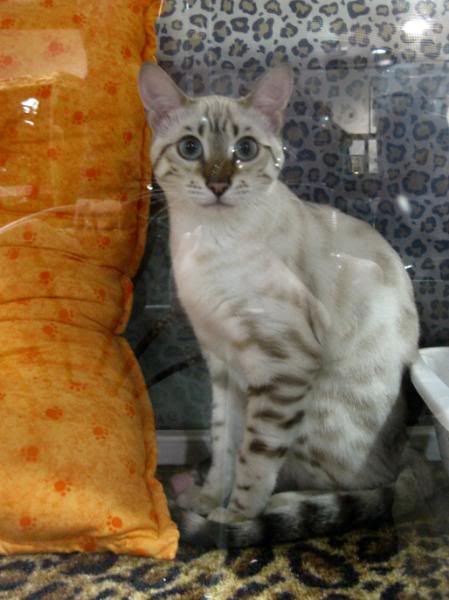 G.G. was shy about winning her rosette!
And here are a couple of the terrors we brought with us! They were absolutely adorable. They really resembled Perkin in color, I thought of him the minute I saw them. I didn't get the greatest pictures of them because they were either in the cage at the show or racing around the hotel room.
The exibitors have a small amount of room to set up on long tables. Everyone brings cages--either the hard glassed in ones or the soft ones that collapse. Everyone decorates them like mad. There is even a prize for best decorated! When the cats are called into the various rings they are put in cages behind the judge. I have some pictures that show that.
The kitties had plenty of room but they slept most of the time anyway. The most discomfort came from how cold it was in the show hall. They couldn't get the temperature right! It was either too hot or cold. The Spinxes were shivering....
Here is another one of my friends' Bengals. His name is Steely Dan and he belongs to Sissy Alexander of Alexander Bengals. His sire is Bluewater Steely and his dam is Bluewater's Jade of Alexander. Steely Dan is one of my very favorite Bengals! If I were to ever get a Silver, I would want one of his progeny.
This is a link to his mother.
http://alexanderbengals.com/jade.html
I don't have a photo of Steely that I can post because I haven't ever taken a picture of him--but there is a pretty famous photo of him taken by Helmi on lots of cattery pages. Check out Meridian Bengals for a photo of him.
This is Missy Strayer's Woodland Divinci Jewel of my Heart "Jewel" of Woodland Bengals. She is a precious girlie who's pelt had a lovely apricot color. I was drawn to her right away. I wish I had more pictures of her but she moved really really fast!
She is listed on Missy's Queens page.
http://www.woodlandbengals.com/woodlandbengals/queens.html.html
We all had a fun time & I learned a lot! Hopefully next time my photo-taking will be better too...